We had just shared a customer testimonial yesterday on LinkedIn: (https://zcu.io/g2Rn ) and later on this hit the news in Essex:
Early Warning.
I asked one of our customers yesterday, why they chose to work with us and the solution we recommend.
The answer:
"After experiencing a burglary we struggled to get a peaceful night's sleep. Every noise or creek in the night had us worried someone got in."
"The solution you worked on with us, addressed our main concerns as we just wanted to know before they were in that we would be alerted. The chances are if the alarm has gone off before they are in, they will more than likely go away for the fear of attracting attention and being caught."
"We now set our system from our phone at night, so it doesn't wake the children and we know it's done and we won't have to worry that noise in the night might be someone in our home. We have been able to sleep properly again for the first time since the burglary."
🚨🏡 We love what we do at Alarms Are Us Ltd – Authorised Verisure Partner, because we get to protect people and give them peace of mind.
What noises have kept you up at night?
Want to have a chat, it's free and the options may surprise you. Cost of Home Security System that is one step ahead of the burglar.
Call. 📞03330 050 9962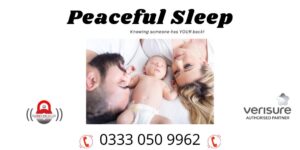 #sleep
#peaceofmind
#security
By Andreea Szasz https://twitter.com/AndreeaSzasz1
Reporter Full article here: https://zcu.io/Hz2s
A WOMAN awoke to find raiders in her bedroom.
The shocked woman shouted at the burglars who then fled from the house empty-handed.
Now, police have issued an appeal in a bid to find the crooks. The victim contacted police at about 3.50am after waking up and finding someone in her bedroom.
However, after shouting at the burglars, they ran out of the house through the patio door.
If this is something that you have ever experienced, or want to be like one of our recent customers and deter the burglar BEFORE they get in!
Give us a call on ☎ 03330 050 9962 ☎
or
💻 Why not book in an online Demo – Again – It's Free, and maybe the best advice your receive this year!
📖 Book your Demo by clicking here: https://zcu.io/KSpe