'Victims can expect little or no investigation, or a visit from a police officer, unless they can supply evidence or name a suspect'
After much consideration, it is finally time to share some hard truths
(The opinions in here are my own, however I will point to various sources from around the web to support these opinions and hopefully help educate both home owner and business owner alike.)
After reading recent articles and attending the aftermath of numerous home invasions, it has become increasingly clear that we NEED to bring our home security into the 21st century.
Do you still have these "blind PIR's?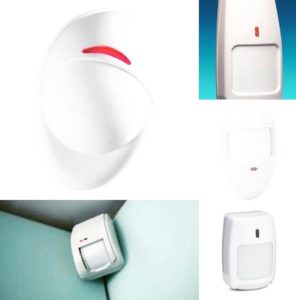 Did you know that traditional home alarm systems (business alarm systems) started appearing on the consumer market in the 1980s-1990s – AND yet, this technology is STILL being used as the primary trigger to many home and business security systems across the world today.
These old fashioned motion devices just don't cut it anymore!
A recent article about police services, burglaries and burglar alarms stated:
"In October it was reported that call handlers are crossing off offences including vandalism, theft, burglary and antisocial behaviour in minutes if there are no clues."
"Victims can expect little or no investigation, or a visit from a police officer, unless they can supply evidence or name a suspect."
"Officers will also only analyse CCTV if the footage is clear and the crime appears within a 20-minute window." Read more
CCTV without an alarm with a quick, reliable means of getting the evidence to someone that can take action, is almost pointless. Any delay rapidly reduces the chances of catching anyone red handed.
The only benefit these devices have is to confirm that there has been a change of temperature and maybe some movement. However there no way of telling you if it's anything to be concerned about.
⦁ Burglars have become skilled at noting the common locations of motion detectors, and can avoid setting them off
⦁ Some Security Systems are susceptible to signal interference
⦁ Burglars have also learned how to disarm them
⦁ Security systems may not work during power outages, leaving your home vulnerable. ⦁ Read more
⦁ Furthermore, if your burglar alarm system is self-maintained and there is a fault and a subsequent break in, it could mean that your insurance will not pay out due to you not maintaining these devices. (Many systems will not show certain faults such as low batteries etc)
⦁ Old fashioned "wired systems" have been installed by engineers who in many cases looked for the quickest way to install, rather than the most secure way (ever wondered why the keypad, internal siren and control panel are generally within a few feet from each other and in most properties in the same location?)
⦁ Alternatively the homeowner / business owners went with the most cost effective or least impact on cable runs.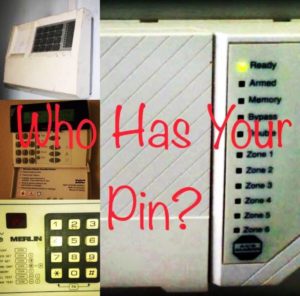 "The central facts: between 94 and 99 percent of burglar-alarm calls turn out to be false alarms, and false alarms make up between 10 and 20 percent of all calls to police. "   "You wouldn't stay in business if 95 percent of the product you put out was a bad product, right? " Source – Read More
If any other product failed 94 percent of the time, you'd probably stop using it.
So why do we put up with antiquated burglar alarms?
It's time to realise that we can no longer pass the buck and we need to take some responsibility. If our security is important to us, then maintained and monitored is something we need to consider, now more than ever.
This leaves our valuable police resource tied up in an administrative headache.
They attend the scene of the crime once you log the complaint, they take a few notes, then create a case file of the information with little or no evidence just so there is a record, however there is no real outcome or solace.
Our 999 services have been inundated with ridiculous numbers of calls for silly things or events post a burglary when there is little or no likelihood of catching someone locally, however they are always under attack and they are the first people to be criticized when they are not able to get to a scene of an active crime quickly enough.
"Between 2014 and 2016, Police received an average of about 1.3 million '999' calls annually. This amounts to slightly more than 3,500 calls every day. About 40% of these calls required direct Police intervention, and Police resources were dispatched. The remaining calls were either nuisance calls or misdirected calls that did not require Police attention." Source, read more
"Nick Smart, chairman of the West Yorkshire Police Federation, said: "Calls relating to violence or vulnerable people are dealt with straight away but crimes where there's no CCTV footage, no positive ID on a suspect, no witnesses or blood left at a scene are dealt with far less urgently." Source, read more
These so called 'alarms' should be in the National British History Museum!
What is the point of having an alarm that just makes a noise when the police have made it clear since 2002 that they will no longer respond to "bells only" type alarms?
As many people have experienced over the past 20 years now, the majority of ringing burglar alarms go IGNORED which burglars have now learned to take advantage of. We get calls regularly in the middle of the night where a home or business owner calls us to disable their systems as they can no longer get hold of their old supplier, their system has malfunctioned or has been ringing for hours and annoying their neighbours.
Even worse yet, the neighbours have called them to say the alarm has been going off for ages and is causing a nuisance, however they have not bothered to go out and look if there has been an actual burglary?
False alarms are having an adverse effect on our already overstretched police resources; not to mention the additional stress and anxiety we experience when our alarms go off, leaving us fearing the worst
Something many people don't know:
"If an alarm continues to misfire and causes a nuisance then the Environmental Protection Act 1990 gives the Council powers to serve notice, enter your property or vehicle and silence and make safe the alarm that is causing a nuisance."
"If this happens you will have to pay the Council's expenses for silencing the alarm in your absence (this could be hundreds of pounds) and possibly be fined for causing a nuisance. " Source, read more
"Make sure the Alarm is properly installed and regularly maintained."
Please check with your local council for specifics to your local area. Example from Milton Keynes Council.
In another article dating back to 2002 it was already noted and that "Police will ignore "bell only" alarms unless they are given additional information to suggest a crime is being committed."
"The tough new rules are being introduced as it was revealed that between May 2001 and May this year officers attended 40,068 false alarms – 95.2 per cent of all calls – a problem they say is getting worse year on year." Read more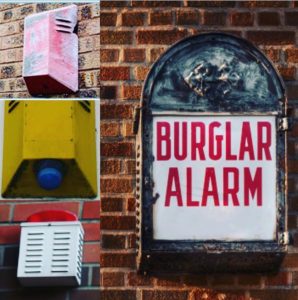 Some Key statistics you may not be aware of:
⦁ around 70% of domestic burglaries in dwellings take place during the week(equivalent to 16% per weekday) and around 30% take place during the weekend (equivalent to 12% per weekend day)
⦁ approximately two-fifths of domestic burglaries in dwellings take place during the morning or afternoon (6am to 6pm) and three-fifths take place during the evening or night (6pm to 6am)
⦁ over 70% of home owners have never changed their pin number / code
⦁ in over half of incidents of domestic burglary in a dwelling where an offender gained entry into the dwelling, someone was at home at the time ⦁ Source, Read More
"If you've been through the unsettling experience of a burglary, you're certainly not alone. According to security experts IFSEC Global, there is an attempted burglary every 45 seconds in the UK; every 76 seconds there's a successful one. " Source, read more
In order to reduce the impact on our police forces as well as to stay ahead of the burglar, it may be time to rethink the bells only type of alarms? Times have changed and in the past an alarm was just that, however today it can be so much more and deliver you a large range of services
Here are a few questions for you to check if your system is up to date with technology: 
⦁ If you are unavailable can someone who is trained to protect your property respond and wait at the property until such a time as a keyholder is available
⦁ Can you change keyholders easily without having to wait all day for an engineer to come out with their "engineer's code".
⦁ Can you remotely change who has access to your alarm?
⦁ Can you view who has come and gone from your home or business via your mobile, as well as what times?
⦁ Can you view your property remotely?
⦁ Have you got a monitored Smoke alarm linked to you home security system?
⦁ If you have forgotten to set your alarm, can you arm it effortlessly & remotely?
⦁ Can you protect the rear of your property with a device that can send images to a control centre before the burglar even enters your home?
⦁ Can someone verify within 30-60 seconds of an alarm being triggered whether it is a false alarm or a burglary in progress?
⦁ Can your alarm provide photo and audio evidence of an intrusion at the point of the event? (not after the fact)
⦁ Can you view live video remotely?
⦁ Are your images stored remotely so that an intruder cannot steal the box and you lose all your evidence?
⦁ If you lose power, internet and/or your phone line, will your alarm still work or be able to communicate with the outside world and notify someone?
More people have security systems today than ever before, and as more and more SMART solutions come to market, it is vital to get expert advice.
Having been a victim of burglary and having dealt with over 5,000 victims who have called as a result of a burglary, I can attest to the fact that burglaries seldom occur at a convenient time when you or your keyholders are available. Make sure you are not spending your hard earned money on solutions that ultimately rely on you, your family or friends availability.
They say prevention is better than cure, however I often hear people say, "we have it covered – our system rings our mobile, a friend or a family member", or "someone is always home" – yet these are often also the people that contact us after an event when their DIY system let them down or they were uncontactable when the burglary took place.
If you have an alarm that calls you, ask yourself:
Am I ever without mobile signal while at work or traveling?
Do I ever turn my phone on silent (for work, in the movies, when you go to bed etc)
If my alarm went off in the middle of the night, would my keyholders be available?
Traveling on the underground, how long at any time would I be unreachable?
How long would it take me to get home in the middle of the school run (for example)?
This is a typical pattern and prime time for burglaries
Contact one of our team today and we would be more than happy to give you a security review. Yes, we are aware that our solutions may not be for everyone, however our advice goes BEYOND our own solutions.  Contact us now