Alarms Are Us
COVID-19 Help and Advice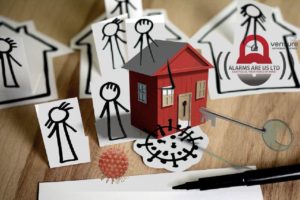 With all the media and news around the COVID19 virus, we wanted to offer a short term business and home security solution, in order to restore some peace of mind and calm during the hysteria that has grabbed our nation.
Unfortunately, there is an undercurrent of fear running through the media and our anxiety of the unknown has infiltrated our daily conversations.
Over the coming weeks, we will all face uncertain times with many of having to shut down business premises or leave our homes to care for loved ones elsewhere for unknown periods of time. Historically, tough economic times have always led to an increase in crime by those who have been impacted by the loss of income as well as opportunists taking advantage.
With so many homes and businesses having outdated or self-monitored security solutions, it creates a big opportunity for burglars and also additional stress for business owners and homeowners alike.
We have agreed to a solution with a low upfront setup and installation cost as well as a 3-month contract instead of the usual 36-month agreement to help businesses and homeowners secure their homes and businesses with a fully monitored solution on a short term basis with the option to extend on a rolling 3 month period.
The following is included in the package we are offering:
Guard Response
If an intrusion or emergency is verified, we will send a Security Guard to your property.
Control your alarm with your mobile
With the App you can be in control of your security from anywhere in the world.
It allows you to activate and deactivate the alarm and to see and hear what is going on inside of your home or business in real-time.
SOS Button for emergencies
Using the SOS button of an Alarm Are Us LTD System you can ask for help in case of emergency. We will call a Security Guard, the Fire Brigade or an ambulance whenever it is needed.
Response within 60 seconds
When an alarm is triggered, our NSI approved Alarm Receiving Centre will respond in an average time of 45 seconds. We will then evaluate the situation and activate our Security Alarm Protocol when needed.
24/7/365 technical assistance
We also provide 24 hour technical assistance to ensure that your alarm is always in perfect working condition.
Due to there being a limited number of systems available on this special, we would urge people to act sooner rather than later to ensure quick installation and setup. Sadly this might not be possible once forced to self-isolate.
This solution provides you with the ultimate peace of mind for your home and business in such otherwise questionable times.
Please do not hesitate to contact on 020 323 94557 or email us on
covid-19 @ alarmsareus.co.uk
For free advice for your home security please download our "Home Security Survival Guide" https://www.alarmsareus.co.uk/home-security-survival-guide/"
Wishing everyone good health and safety over the coming weeks.
For official guidance and advice during the pandemic, please go to: https://www.gov.uk/coronavirus
Alarms Are Us Limited
Www.alarmsareus.co.uk
We can offer Video consultations at flexible hours. Times available on inquiry.
Installations can be carried out in a matter of 2-4 hours in most cases.
Slots are available :
9am-12, 1-4pm 5-8pm, Monday to Saturday.
Currently at a 1-2 week lead time.