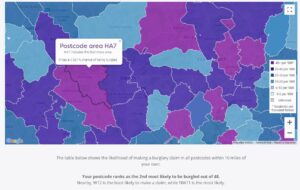 WHAT! Find out what Money Supermarket says about your area & how we can help.
According to Money Supermaket HA7 postcode ranks as the 2nd most likely to be burgled out of 48.
Nearby, W12 least likely to make a claim, while NW11 is the most likely.
What do they say about your Postcode? See below
Reformed burglar Michael Fraser – who's appeared on BBC's Beat the Burglar series says: "Burglars are opportunistic thieves, they're looking for a weakness in your home security & they will take advantage.
Anything you can do to secure your property & make it less attractive to the burglars is a real good thing."
Burglar alarms, window locks, & signs about forensic marking, Neighbourhood Watch membership & smart home security systems are all good deterrents. source: Money Supermarket
We offer free no-obligation online consultations.
Call us on: 020 323 94557 contact us 
Our alarm systems can include the following as part of our services:
☎️ No Phone Line required
👉Wireless Devices
👮‍♀️Guard response
📲Control your alarm with your mobile
🚔 SOS Button for emergencies
⏱️ Response within 45 seconds
👉Lifelong Warranty & Maintenance
📞 24/7 Technical Service
#securityservices #securityawareness #alarmsareus
Image Credit to moneysupermarket
Money Super Market: https://www.moneysupermarket.com/home-insurance/burglary-hotspots/